Bethlehem, April 22th 2016: In the Cremisan Valley, which neighbors the towns of Beit Jala and Bethlehem in the Occupied Palestinian Territories, the Israeli Ministry for "Defense" has started the construction of the Annexation Wall on the lands owned by 58 Palestinian Christian families, close to a monestary and its sister convent.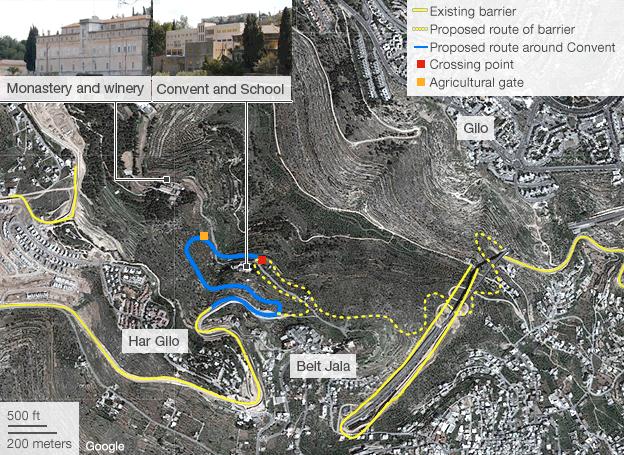 This construction was preceded last year with the confiscation of these private lands and the uprooting of dozens of centuries old olive trees. The Cremisan Case is just one example of the Israeli strategy of annexing as much Palestinian land as possible while evicting Christian and Muslim Palestinians under the excuse of security measures. Despite various international interventions and a pending appeal by the families in Beit Jala, the Israeli authorities started building facts on the ground endangering the basic livelihood of 58 Palestinian Christian Land owners and their families in addition to denying them free access to their agricultural fields. Up to date, 3500 dunums of land (approx. 350 hectares) is being confiscated from the Beit Jala municipal area.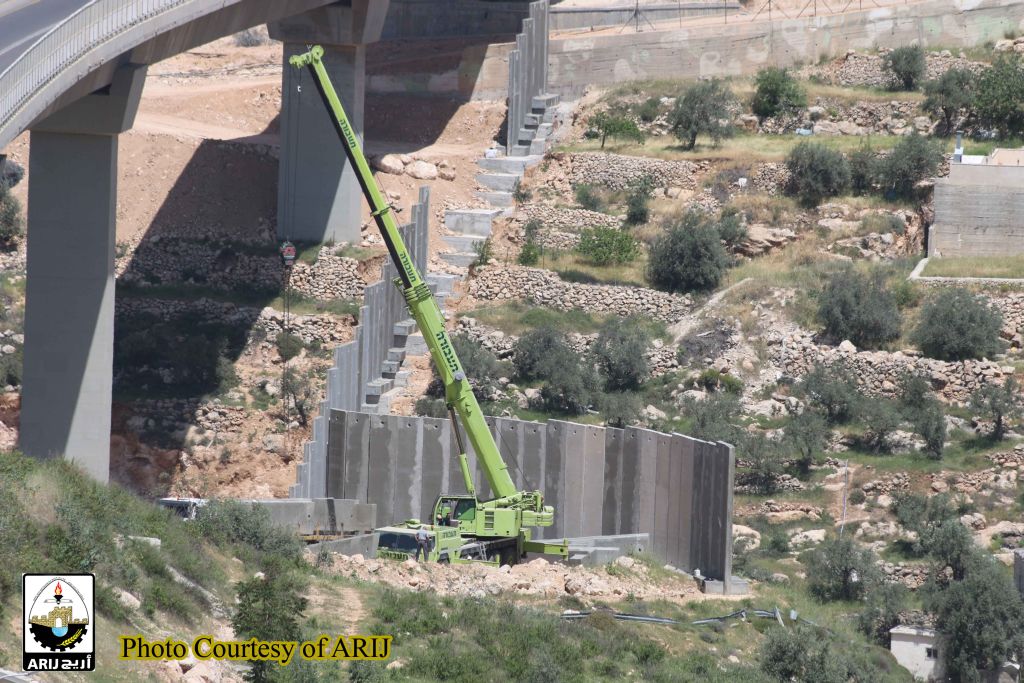 Palestinian human rights organizations like ARIJ and St. Yves claim that with the construction of the wall in this area, Israel seeks to develop corridors between the illegal settlements. In the Cremisan case, it seeks to link the settlements of Gilo and Har Gilo, again conducted under the pretext of security. Once finalized, and after the ongoing expansion of the Tekoa settlement in the south, the Bethlehem region is being denied most of its available land, the natural continuity between its towns and villages and any chance of development. These measures further contribute to the ethnic cleansing of Palestinians from their homeland who are otherwise forced to live under dire social and economic conditions in their homeland. The planned annexation wall in Cremisan After years of legal battles, the legal recourse has almost been consumed. All of the Israeli Supreme Court rulings have been politically biased and in violation of international law. The only option we Palestinians have is lobbying and hence we call on all people of faith and conscience to stand by International law, the Palestinian Christians and all Palestinians ! At a time when Palestinian Christian presence in the Holy Land is threatened already, we seek more pressure on the Israeli government to stop the eviction of Palestinian Christians from their lands denying them their resources and a normal life. Kairos Palestine condemns in the strongest terms the construction of the Annexation Wall, the further confiscation of Palestinian land and other resources and demands accountability to all violations of international law. Palestinians, Christians and Muslims alike, will resist as long as their rights are being denied.
Support them in their non-violent struggle:
Respond to our Kairos Palestine call at www.kairospalestine.ps to help us end the Occupation and continued injustice.
Write to your Church leaders to ensure they are aware that construction of the illegal Annexation Wall in the Cremisan valley is almost complete, urge them to speak out and lobby their politicians to act!
Write to your elected representatives and to your countries' ambassadors to Israel asking for:
- Supporting an immediate stop of the construction of the Annexation Wall through the Cremisan Valley
- Help replant the uprooted olive trees and compensate farmers who have lost their trees
The European Union has issued a statement stating that they are "deeply concerned" about the relaunch of construction works in Beir Ouna and confirmed once more that the annexation wall is illegal. Pressure member states to react to this statement and force the State of Israel to respect International Law and the human rights of the Palestinian people! (the statement can be accessed here)
Background information on the Cremisan Case:
The NGO St. Yves is representing the sisters of the convent in the Cremisan case. They issued a detailed report on the developments: "The Last Nail in Bethlehem's Coffin: The Annexation wall in Cremisan". Available for download: http://www.saintyves.org/downloads/reports/20150902063619.pdf
In an update report, Eye on Palestine by ARIJ and LRC, witness the recent constructions: http://www.poica.org/details.php?Article=9261